MYSTIC DESERT TOURS
We are an Egyptian-Swiss married couple living in Egypt. We work together with a very experienced desert guide from Bahariya Oasis. Since 2009 we organize different kinds of trips in all Egypt. We carry out all the desert trips ourselves if possible; otherwise we have very experienced and trustable co-workers that carry out the trips. We work together with local people on all our trips. Since 2011 we are part of the Safari Department of the Egyptian travel agency Sahara Egypt. We also organize trips to Cairo, Luxor, Aswan and Abu Simbel but do not carry them out ourselves in general.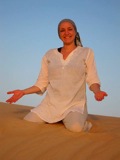 Juliette Kaltenrieder Farag

Education: Studies in Geography, Religious Studies and Astronomy at the Unversity of Berne, Switzerland (diploma 2007)
Working Experience: Assistant at the Unversity of Berne, since 2009 organisation and guiding of trips in Egypt
Languages: Swiss German, German, Arabic, English, French, Spanish, some Italian and Amharic


Montaser Abbas Ammar Farag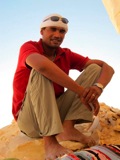 Education: Studies in Tourism and Hotel Business at Helwan University in Cairo, Egypt (diploma 1997)
Working Experience: Tour Leader in Sinai (1997 - 2002), Tour Leader in the Western Desert (since 2002)
Languages: Arabic, English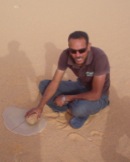 Mohamed "Kosa"

Working Experience: Desert Guide since 15 years
Languages: Arabic, English


OUR PHILOSOPHY

We intend to give our guests the possibility to get to know Egypt, and in particular the Western Desert, with all their beautiful but also problematic aspects. Our main goal is to enhance understanding of this fascinating country, to bring guests and locals together and to leave only good marks. This includes an environment-friendly behaviour. We want to evoke respect towards nature and people and try to follow the principles of sustainable tourism. It is important to us to give our guests time and space to get cauhgt by the mystic ambiance of the desert.



EQUIPMENT









Toyota Land Cruisers (recent models in very good condition)









Complete and clean camping material including tents, sleeping bags, mattresses, carpets, kitchen equipment


GPS Navigation System
Satellitephone
Emergency kit
Tool kit


ADDITIONAL RESOURCES








Professional and experienced local guides and staff members (drivers, cooks, cameleers), camels


Seite auf Deutsch